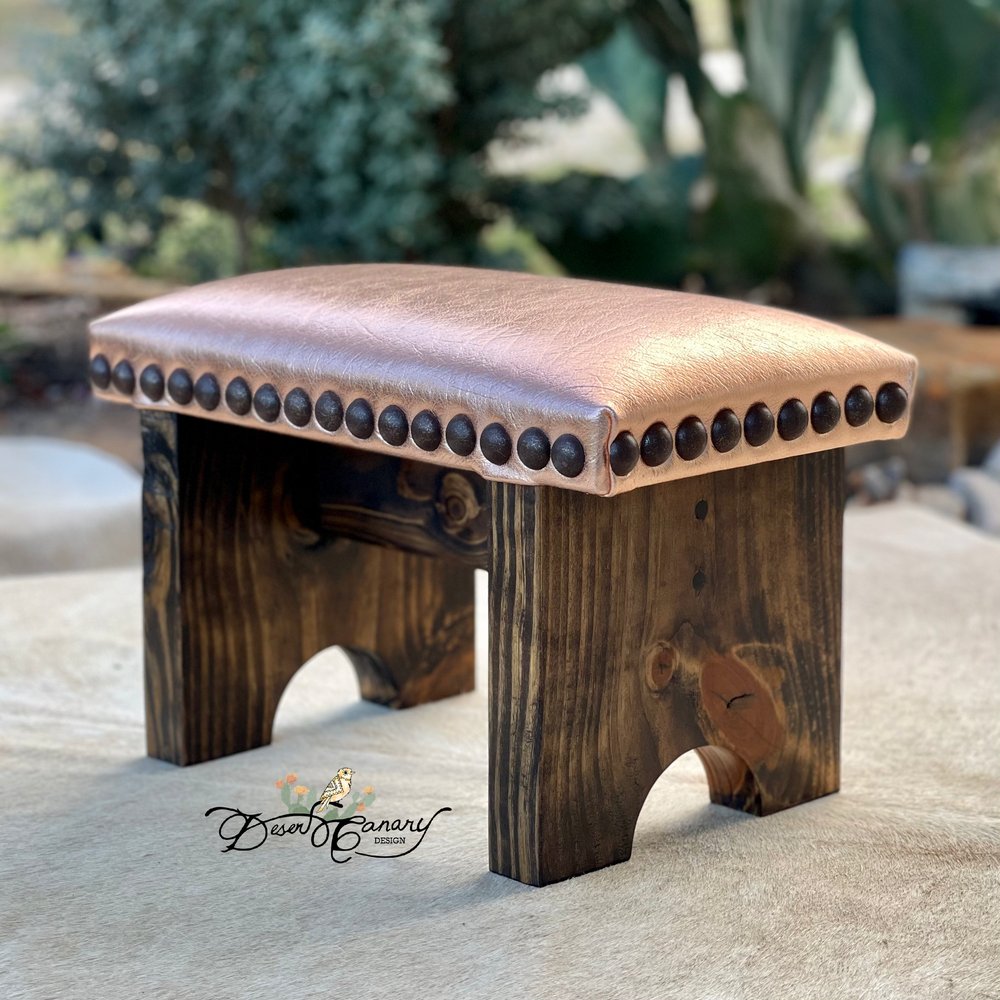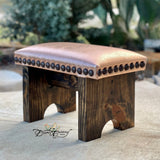 The epitome of elegance and functionality, the Rose Gold Step Stool, combines runway worthy glamor with rustic functionality.  Exquisitely upholstered in lustrous rose gold metallic leather, this captivating piece embodies a harmonious fusion of opulence and practicality, adding a touch of sophistication to any space.
Crafted with utmost care and attention to detail, the step stool showcases a sturdy yet refined design, making it both a practical tool and a statement accessory. Its compact size allows for seamless placement in any room, whether it's a child's dressing area, a luxurious living room, or an elegant walk-in closet.
The allure of this step stool lies in its captivating upholstery. The premium Rose Gold Metallic Leather trimmed with dark bronze decorative nails exude a timeless charm, creating a mesmerizing interplay of light and shadows with its reflective surface. The soft blush hues delicately enhance the space, complementing various decor styles from contemporary to classic.  The cushioned top is lavishly padded with high-quality materials, providing a plush seating experience. The step stool's sturdy framework, carefully concealed beneath the radiant leather, guarantees reliability and safety for daily use.
Indulge in the lavishness of this statement piece, appreciating how it seamlessly combines fashion and function. Whether used as an elevated platform for reaching higher shelves or as an alluring accent piece, this Rose Gold Step Stool promises to elevate your interior to a whole new level of sophistication and grace. Embrace the essence of femininity and luxury with every step, basking in the glamor and allure of this remarkably handcrafted step stool. 
This is a made to order item 🖤 Please allow 4~6 weeks lead time
---
FAQ

Do you ship? 

Absolutely! I offer free UPS ground shipping all over the United States. 

What is the turnaround time for made-to-order items from The Bench Shop? 

On average, I try to turn out made-to-order pieces within 2~4 weeks from purchase date, but I ask that you allow me 4~6 weeks.  I am pretty disciplined with staying on top of bench shop orders, but lead times fluctuate depending on my custom furniture schedule and what I have going on in my upholstery shop.      

Do you make custom benches? 

I totally make custom benches!  If you need a certain size or certain color/color palette to create something perfect for your space, please feel free to reach out to me with any questions you might have.   

How long does it take to get a custom bench? 

That depends on size and design!  However, I do strive to turn out all order from The Bench Shop within 4~6 weeks. 
About us

Quality Materials

With every Desert Canary hand-crafted design, you can expect the finest materials, textures and details.

Built to Last

An incredible amount of pride is taken in the design and craftsmanship to create something I can be proud to send into your home, and you can be proud to show off year after year.

Never Cookie Cutter

You'll never find any cookie cutter designs at Desert Canary. All of our pieces are hand-crafted, making the details different in each one.