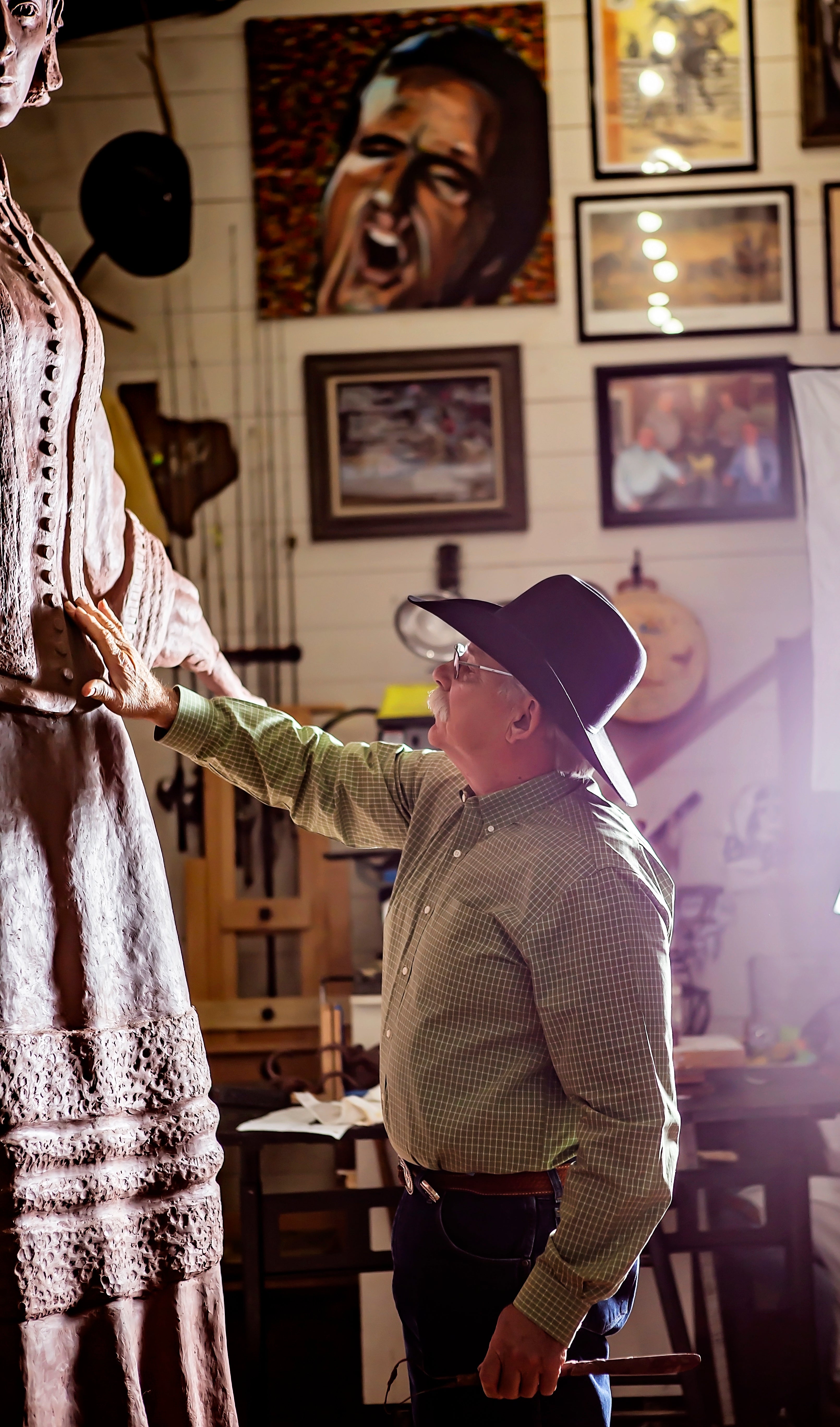 Carrying on a Legacy
When asked about my dad, Rick McCumber, I would always say, 'He's just a workin' cowboy who turned out to be incredibly talented.' 
---
And there is no truer statement.  Those that knew him loved and respected him, and those that didn't missed the opportunity to experience his unique wit, wisdom, and undeniable artistic gift.
Drawing inspiration from a lifetime of cowboyin', rodeoin', and his share of all out western wrecks, dad created some of the most authentic cowboy art known to the western world. 
It's taken me quite some time since suddenly and unexpectedly losing him in early 2021, but I have finally caught my breath and want nothing more in the world than to carry on his legacy by offering his art once again.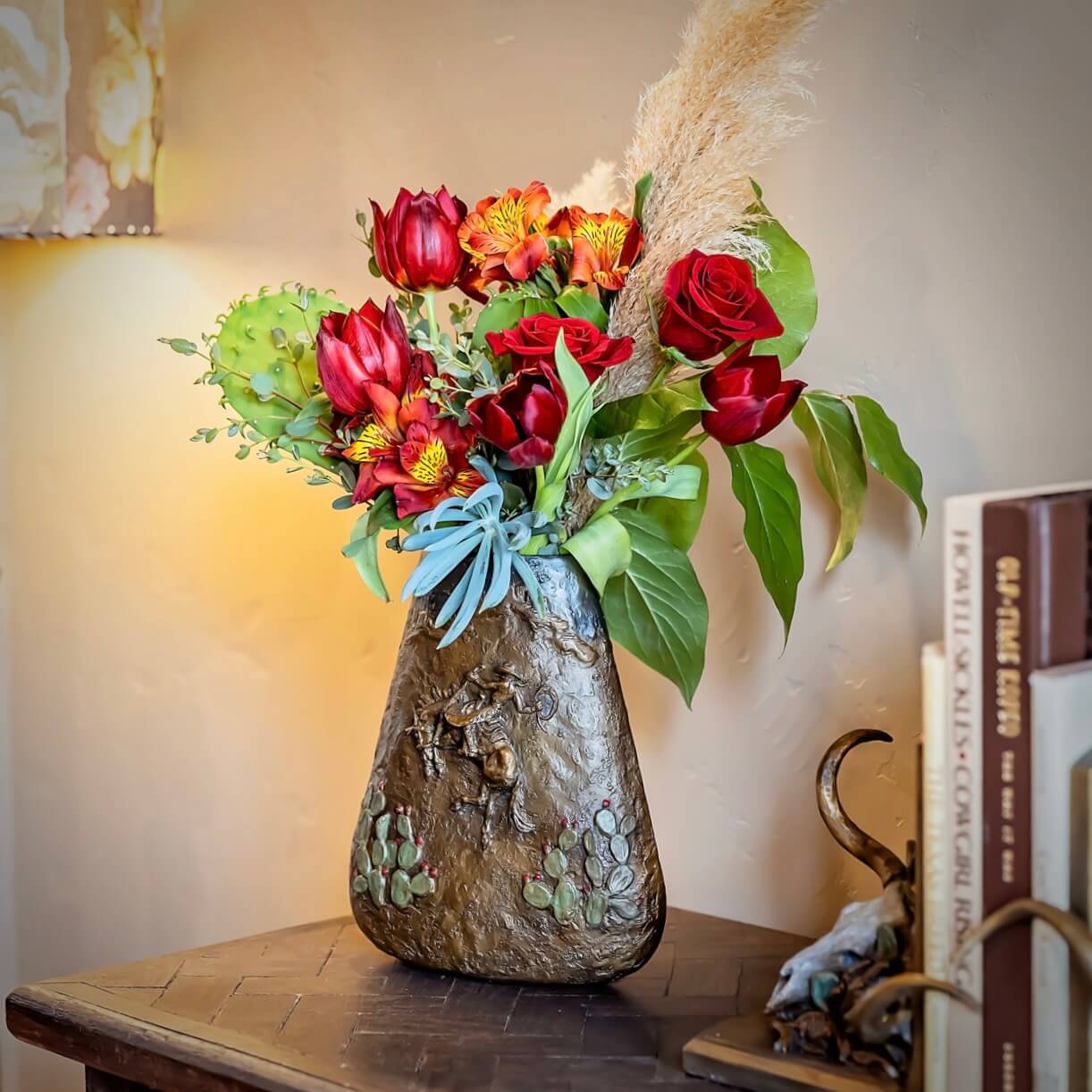 Now more than ever I recognize his influence in the pieces I create, the business I run, and the parent I am. 
---
I feel overwhelmingly blessed that God set me on a path to build a business that seamlessly allows me pick up where he left off and carry on.    
"We ain't playin it.  We're livin' it."  - Rick McCumber
When asked about my dad, Rick McCumber, I would always say, 'He's just a workin' cowboy who turned out to be incredibly talented.'  And there is no truer statement.  Those that knew him loved and respected him, and those that didn't missed the opportunity to experience his unique wit, wisdom, and undeniable artistic gift.
Dad was raised in the small South Texas ranching community of George West, located in the heart of the Nueces strip, historically known as the Wild Horse Desert.  Surrounded by the families and immersed in the history and culture credited with pioneering the legendary longhorn cattle drives of the 1880's, he spent his formative years working cattle and cowboyin' alongside men whose fathers and grandfathers had a hand in the transformation of the early Texas horse and cattle industry.  I'm sure he didn't know it at the time, but it would be these friendships, memories, and all the truisms that come from a lifetime of cowboyin' in south Texas that would one day be the inspiration for the art he offered the world.  
I too was fortunate enough to grow up on a working ranch in south Texas immersed in that same cowboy culture, listening to the same stories of how it once was.  I spent my days in and out of dad's silversmith shop and under his feet at his sculpting table.  From an early age I showed signs of creativity and took an interest in art.  Dad recognized that little flicker of a flame within me and stoked it.  He would point out balance and movement within works of art and talk about what made it pleasing to the eye.  He made me understand the importance of authenticity and craftsmanship, never cutting corners, and how truly precious relationships are.  Like dad, I had no idea how those mundane day to day little moments in time would ultimately shape who I became as an artist, mom, wife and friend.    
In 2013 I decided to make my side-hustle hobby official.  I discreetly made a Desert Canary Design social media page and shared it with him, and only him, to get his feedback.  To my horror, he shared it with the world, inadvertently kicking me off the proverbial sideline and into business.     
Just a few short years later, in 2015, he and mom uprooted from south Texas and moved to Huntsville where we bought a piece of property together and began construction of our family compound.  For the last 7 years, the front doors of our shops faced each other and were mere walking distance.  I again found myself back in and out of his silversmith shop, and sitting at his sculpting table, but now I was asking his opinion on my pieces, pitching him ideas I had been mulling over, and dreaming up the next big thing. 
We walked a trail in the yard from his front door to mine with our daily treks back and forth.  Sometimes he would come sit in my shop with some sort of wit and wisdom to share, and some days it was a silent escape from the solitude of running a one-man-show.  
When he came home from the NFR trade show in 2020 not feeling well, I never in a million years would have imagined he would be gone within weeks.  But that was the reality of it.  On January 8, 2021, the day before my baby girl's first birthday, we suddenly and unexpectedly lost Rick to COVID.  For the first time in my life, his shop was empty, still, and silent.
It's taken me almost three years to gather the strength and composure to tell his story and carry on his legacy through his artwork, but for the first time in a really long time, I can smile and feel joy when reflecting on his memory.  To say he was larger than life and rich with friends is quite the understatement.  Now more than ever, I recognize the influence he had in exactly who I came to be; the pride I take in continuously striving to perfect the craftsmanship in each and every single piece I touch, staying truly authentic to myself and who I am, but most importantly, showing me every single day that I could build a business that allows me to feed my soul's creative craving all the while being present in my children's everyday life.
So many things have changed since we got the call that dad was now in the arms of Jesus, but really, so many things are just the same.  My kids spend their days in and out of my shop toting my tools off and leaving doors open, just as I did growing up.  His shop is alive and bustling once again, but now it serves as my office and shipping studio.  I can't help but wonder what he would think of all the finished pieces out of The Bench Shop that line the walls of what was once his silversmithing and sculpting studio.  One thing that I do know for sure, however, there will come a day when I see him again and get to tell him all about it.    
Till then, it's nothin' but hard work and clean livin'.