Introducing the Drover
Giving New Life to an Old Friend
Without further ado, I give to you what dreams are made of!
Well. What my dreams are made of anyway.
I've had this design living in my heart for quite some time and it finally came together more beautifully than I could have ever dreamed.
I found this couch livin' its best life in some fella's back yard in San Antonio and while I'm sure camping out under the stars every night and givin' the critters a good place to nap isn't a bad way to spend your days, I knew this beautiful Spanish couch had a much bigger destiny to fulfill.  After a few phone calls, this beauty made its way from San Antonio to my shop in Huntsville in less than 24 hours.  
After tearing it down to the bare frame, we made the trip to Renovation Masters to be professionally reglued, redowled, and refinished and literally brought back from the depths of despair. When I dropped off I said, "do what ya can. This one might be too far gone to save."
But let me tell you, I almost cried when I came to pick up and saw what an incredible job Scott and his team had done restoring this beautiful piece that most would have thrown away. 
And there that beautiful frame sat.
It took me a solid year to piece together the hides and vintage Mexican blankets that would eventually bring my vision to life. I refused to settle for anything less than what I considered perfect for this piece.
Sometimes I get annoyed at myself because of how long these pieces take me. And sometimes I get super anxious about the wait my customers are willing to endure. And sometimes I get annoyed at my obnoxious obsession with pattern placement and perfect bullets..
But every time I finish a piece and step back to admire the final outcome, it takes away all the anxious feelings and self-doubt about my weird little design process.
Because sometimes there are things genuinely worth waiting for.
The Drover is available for purchase for $12,500.00
If you're interested in purchasing this one of a kind piece, please inquire below.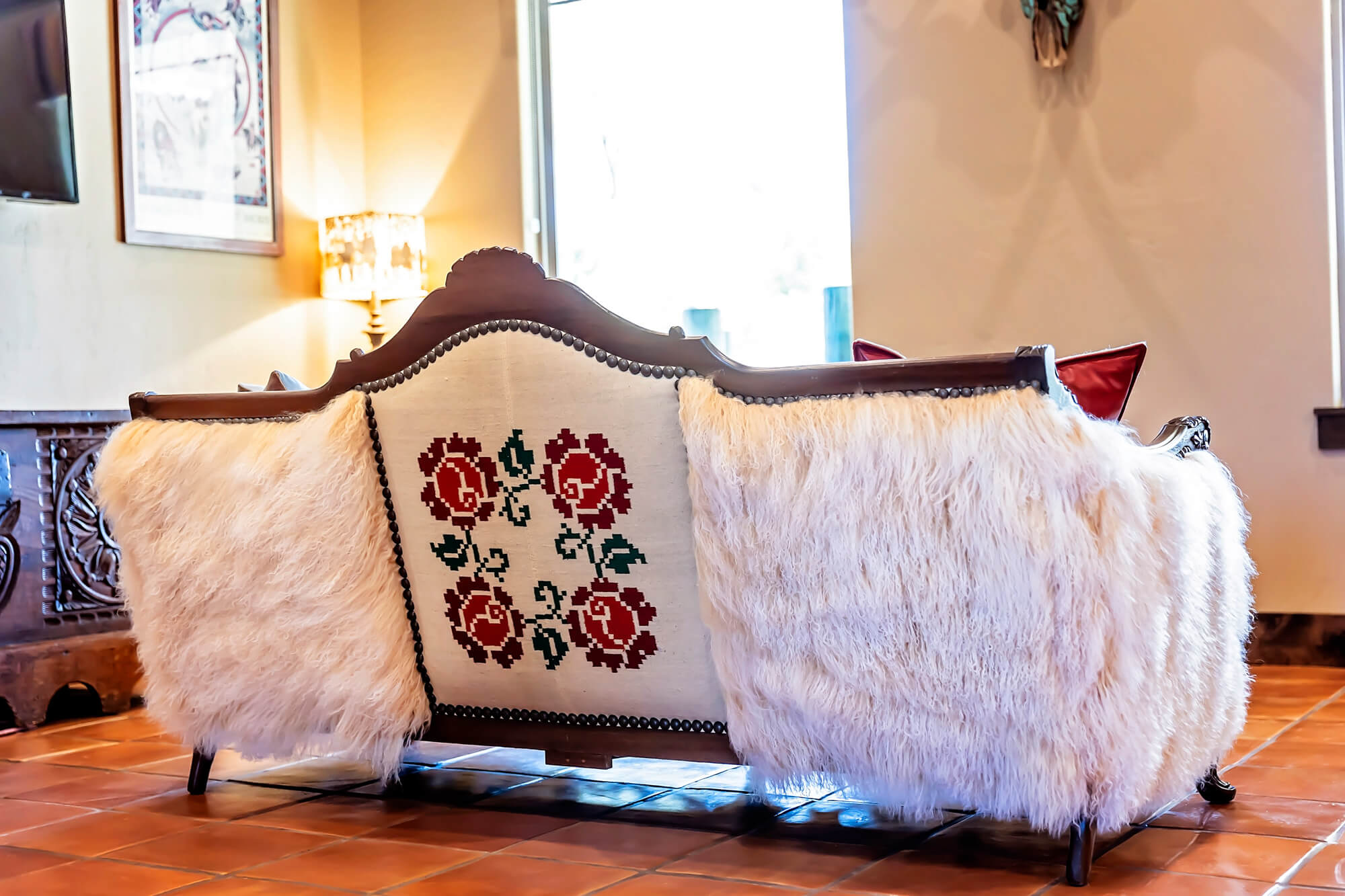 Materials
Antique hand woven Mexican wool blanket, brazilian cowhide, tibetan lamb, custom Teal Blake cowgirl watercolor made into accent pillow.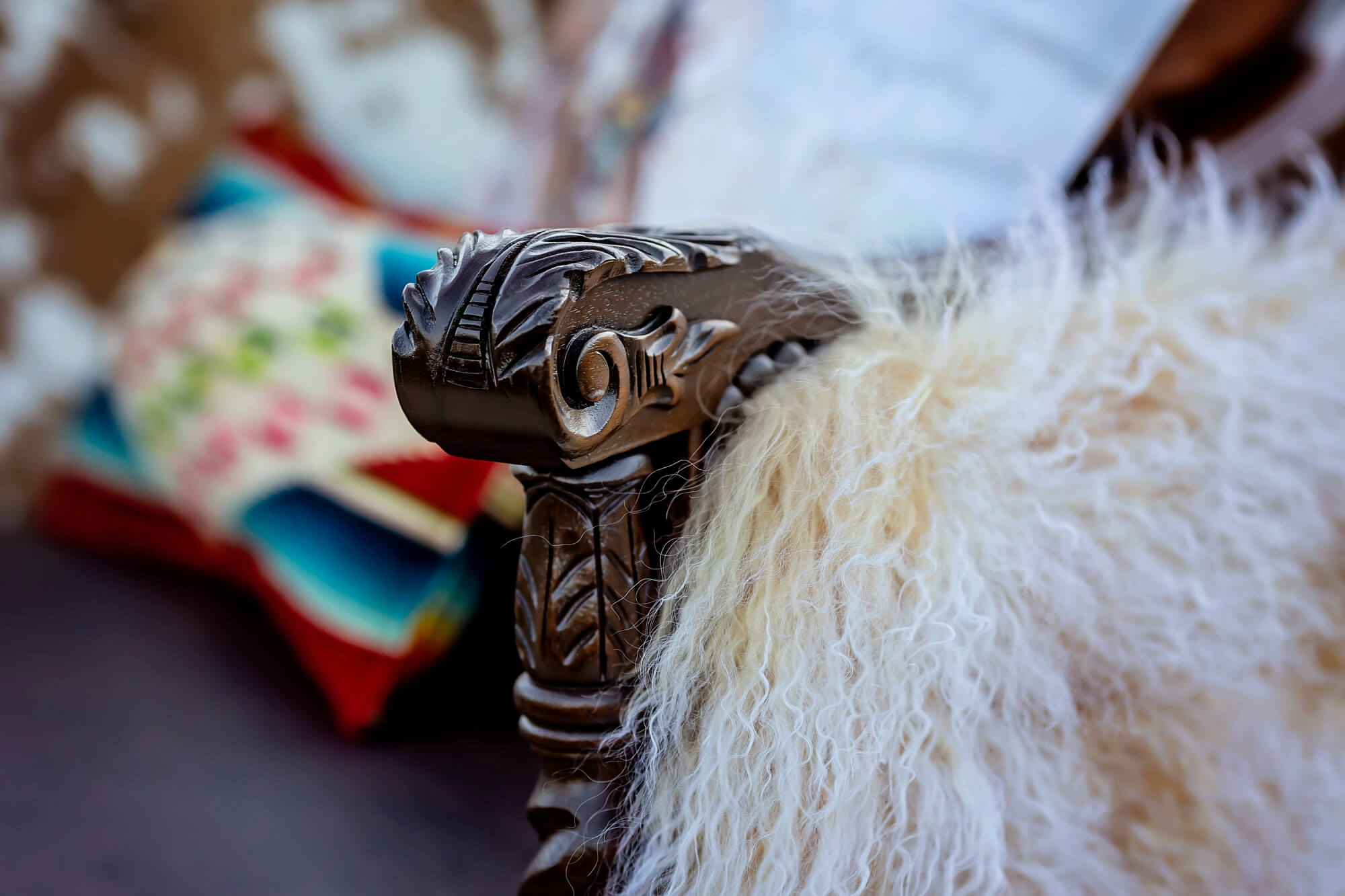 Details
These piece has more details than you could imagine. From the artistic carvings on the wooden sides down to the accent pillows.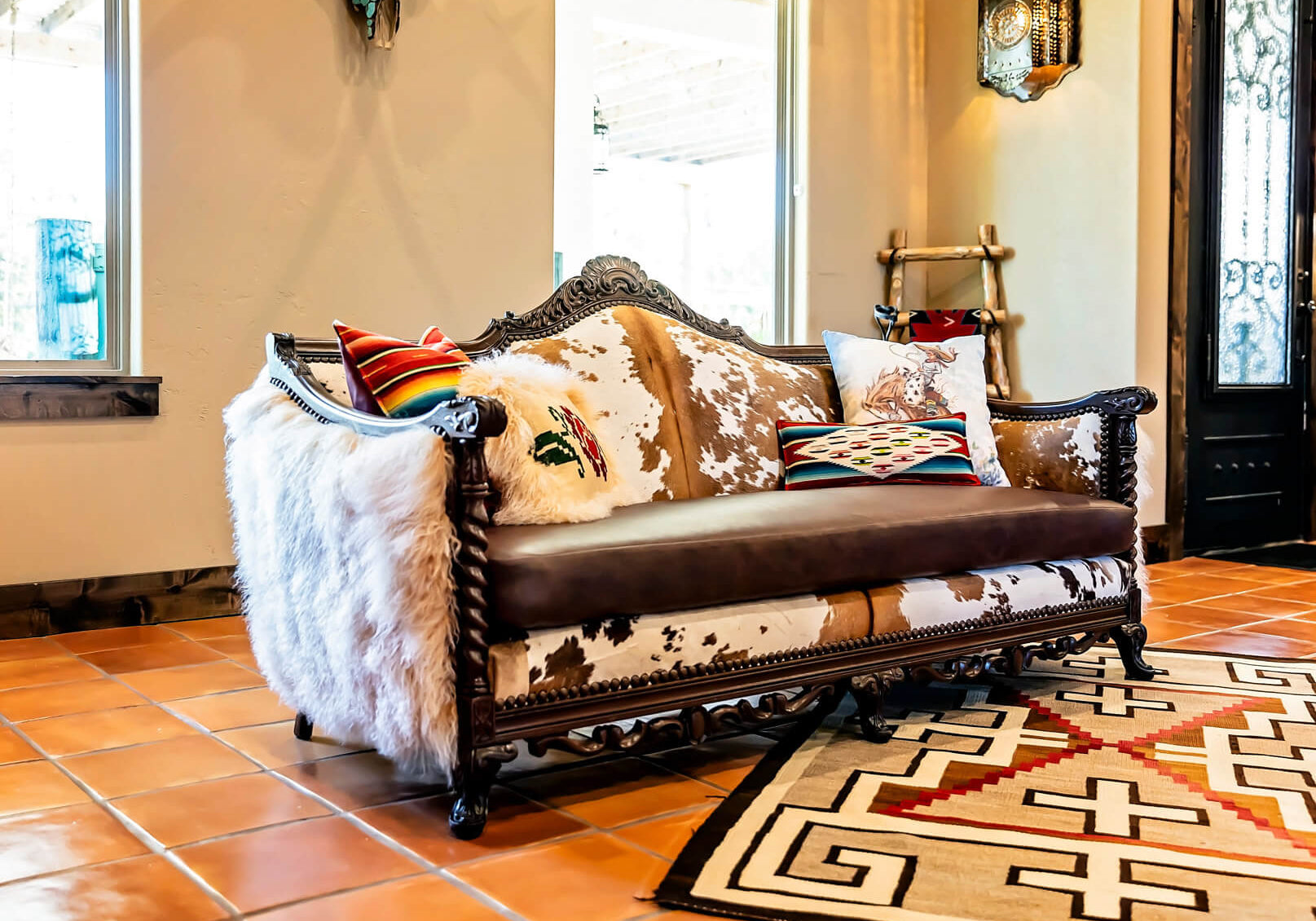 Luxury
The design is sure to be the centerpiece of your home. The luxury craftsmanship and material was made to last.
A Show-Stopping Transformation
Inquire to have this custom piece all to yourself.