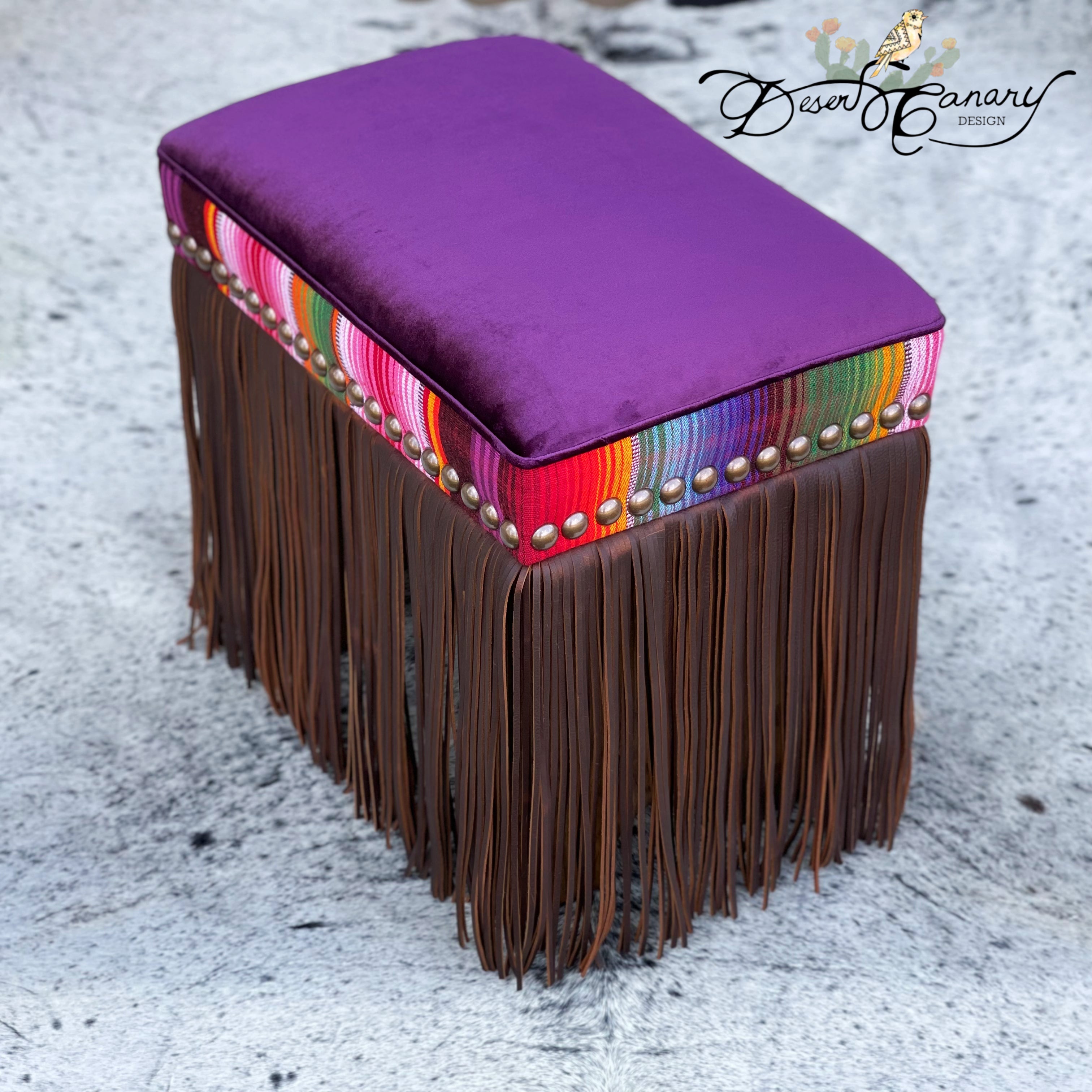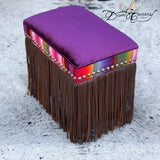 Royal Purple Velvet + Serape Fringe Vanity
Crafted with meticulous attention to detail, the exquisite Royal Velvet and Serape Fringe Vanity is the ultimate fusion of elegance, comfort, and colorful charm. This luxury piece of furniture is designed to elevate any living space with its captivating blend of luxurious materials, bold color, and eye-catching accents.
The seat features a sumptuous deep purple velvet upholstery, reminiscent of the luxurious robes worn by monarchs and nobility through history.  The velvet's soft, lustrous texture adds an air of opulence and envelops you in softness, ensuring a relaxing and comfortable seating experience every time you sit down to pamper yourself at your vanity or dressing table
But what truly sets this vanity seat apart is its bold serape blanket border. Inspired by traditional Mexican motifs, the serape blanket injects a vibrant burst of colors into the design, evoking the spirit of Mexican culture.  Rich hues of pink, turquoise, green, and  purple dance across the fabric, adding warmth and character to your space.
Adding to its allure, lavish hand-cut oiled leather fringe dances around the edge of the solid wood frame.  Each strand of fringe is inspected and trimmed to lightly kiss the floor, creating a captivating visual appearance that beautifully sways, evoking a sense of movement and creating an eye-catching focal point.
The seat's sturdy yet elegant wooden frame provides a secure foundation, ensuring durability and stability. Its compact size allows for easy placement in various areas of your home, whether you wish to grace your dressing area with a regal touch or bring a splash of color to your living room or bedroom.
This Royal Velvet Fringe Vanity is not just a piece of furniture; it's an artistic statement that celebrates the fusion of classic elegance and contemporary flair. Whether you seek a charming spot to relax and unwind or desire a conversation starter that catches everyone's eye, this fringe vanity is sure to surpass your expectations and become a cherished focal point in your decor. Revel in the harmonious blend of velvet, serape, and fringe, and experience the embodiment of majesty and glamour in every detail.
Dimensions/Info to include:
20x13x18

25 lbs

Free Shipping

This is a made to order item.  Please allow 4-6 weeks lead time. 
---
Royal Purple Velvet + Serape Fringe Vanity
FAQ

Do you ship? 

Absolutely! I offer free UPS ground shipping all over the United States. 

What is the turnaround time for made-to-order items from The Bench Shop? 

On average, I try to turn out made-to-order pieces within 2~4 weeks from purchase date, but I ask that you allow me 4~6 weeks.  I am pretty disciplined with staying on top of bench shop orders, but lead times fluctuate depending on my custom furniture schedule and what I have going on in my upholstery shop.      

Do you make custom benches? 

I totally make custom benches!  If you need a certain size or certain color/color palette to create something perfect for your space, please feel free to reach out to me with any questions you might have.   

How long does it take to get a custom bench? 

That depends on size and design!  However, I do strive to turn out all order from The Bench Shop within 4~6 weeks. 
About us

Quality Materials

With every Desert Canary hand-crafted design, you can expect the finest materials, textures and details.

Built to Last

An incredible amount of pride is taken in the design and craftsmanship to create something I can be proud to send into your home, and you can be proud to show off year after year.

Never Cookie Cutter

You'll never find any cookie cutter designs at Desert Canary. All of our pieces are hand-crafted, making the details different in each one.